Here's how CTFM serves fresh fish from coast to coast – and everywhere in between
---
South Africans love seafood, which is why we're fortunate enough to have restaurants across the country, from Cape Town to Joburg and everywhere in between – even in Bloemfontein.
Bloemfontein is a great city. We love it for its roses, rugby, breathtaking stargazing, and so much more. In fact, as far as we're concerned, it only has one downside – it's not exactly a seaside town. Almost 700km away from the nearest coastline, and about 1,200km from Cape Town, getting fresh fish to Bloemfontein is a challenge – for most people. But because we're Cape Town Fish Market, bringing delicious, healthy and (most importantly) fresh fish to South Africa is what we do. Some would call it tough. We call it all in a day's work.
Wait, why the rush? Why not just freeze it?
Many seafood restaurants serve frozen fish. We don't.
When something is frozen, the liquid inside it crystalises. And just as our bodies are about 70% water, the same principle applies to fish. When fish is frozen, tiny, sharp crystals form within the meat itself, which cut into the surrounding meat, essentially damaging it. Then, when it's defrosted, the liquid or juice melts, but doesn't bind with the meat again. Instead, it runs out, changing the texture of the fish and often leaving it much drier and less juicy than it would be if it was fresh.
If you don't serve fish fresh, you compromise on its quality, and that compromises your dining experience. It's why we go the extra mile to serve fresh fish across the country – including Bloemfontein.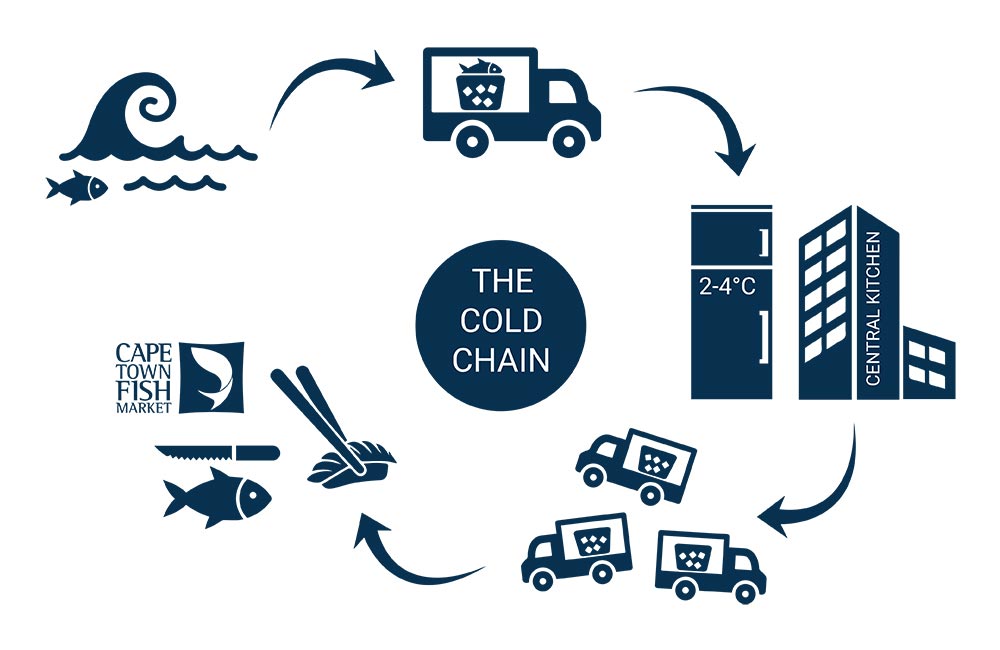 Introducing the 'cold chain'
If you pack fresh fish on ice, you keep it at between 2º and 4ºC. This temperature walks the perfect tightrope, keeping the fish fresh, without freezing it. The goal is to make sure the fish gets from the ocean to the restaurant (and your plate) as quickly as possible, while spending as little time outside a refrigerated environment as possible. This process is controlled incredibly carefully, and in the restaurant business it's what we call the 'cold chain'.
As with anything involving fish, the cold chain begins in the ocean. At CTFM, we make sure the people who catch the fish we serve in our restaurants are just as obsessed with the cold chain as we are – which is why we don't buy fish without knowing exactly when it was caught. If it was caught outside a certain window of time, we don't take it, because it's just not fresh enough for our customers.
From the boat, the fish is immediately placed on ice and packed into insulated trucks, which, for most of the fish we serve, then make their way to our central kitchen in Cape Town. Once there, it's checked carefully by our central kitchen manager, Justin Manson-Kullin (a trained chef with 30 years' experience), before being quickly transferred to one of our refrigerators, each of which is also set between 2º and 4ºC.
Our central kitchen is where we help our franchisees work their magic. By supplying them with the majority of the high quality, fresh fish they need for their restaurants, we give them more time to focus on creating a great dining experience for you, our customers. It's here where we send the right fish and the right cuts to the restaurants based on the demand from local seafood lovers.
From the fridge, it's back on ice and into a polybox to ensure maximum insulation and cleanliness during transport. Each polybox is then packed carefully onto a temperature-controlled truck and so begins its journey to one of our restaurants. Our goal is to ensure that the fish we serve spends no more than 10 minutes outside a carefully-controlled refrigerated environment before it reaches the restaurant. For Bloemfontein, it gets there in just 18 to 20 hours. Combined with our careful attention to maintaining the cold chain, we're confident you won't get it fresher. It's this care and consistency in quality that we believe you can taste in each and every one of our fish, including kingklip, hake and tuna (when in season).
Not everything travels by truck, though. Our mussels are extra special, and they get flown around the country twice a week. After being harvested early in the morning, we make sure they're in our Bloemfontein and Johannesburg restaurants within a day – fresh, chilled and delicious. Likewise, our Norwegian salmon is flown in from Norway, where we ensure it's all certified and traceable. On this side, Justin, our central kitchen manager, has personally inspected the airline storage facility where our salmon arrives to ensure the cold chain is maintained. Meanwhile, Norway has enjoyed several visits from CTFM's founder, Douw Krugman, to ensure that we serve only high quality salmon, and that the cold chain has been carefully maintained on the Norwegian side.
When fish arrives at a Cape Town Fish Market, whether it's at the seaside or deep in South Africa's beautiful interior, it gets carefully checked again for quality, before making it to the restaurant's fridge. And that's where the cold chain ends. The next time it gets moved, it's because one of our chefs or cooks is about to prepare it for a customer. Now, if you stop for a moment and listen closely, you can hear the sizzle of that perfectly-cut fillet of fish being seared on the grill, before being lightly drizzled with one of our famous sauces. It's a sound you can only get one way – by ensuring the fish you serve is rich, juicy and fresh. When it comes to taste, smell, texture and melt-in-your-mouth flavour, there's simply no substitute for freshness. It's why we do what we do, and we hope you enjoy every bite.