Pair like a pro – the CTFM guide
---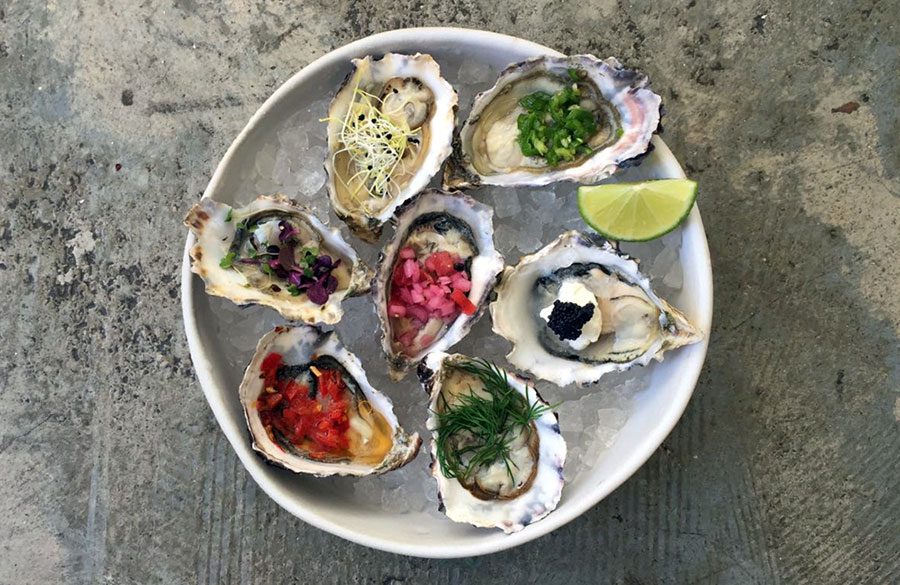 Have you ever looked at a drinks menu or a wine list and then at a food menu, and then back at the drinks menu, and then back at the– You get the idea. It's hard to know which drink is going to complement which dish. And more importantly, which combination is going to impress your partner or your friends. Thankfully, you can stop faking it and start making it with these three iron-clad pairings we've put together to help you show off your taste, sophistication and creativity.
1. Our classic oyster starter with an unconventional pairing
Fresh oysters and MCC (or champagne) is a tried and tested classic, and, like any band playing the hits, is guaranteed to be a crowd-pleaser. What you might not know is that here at CTFM, we're constantly revising our food menu to bring you the tastiest dishes, and our drinks menu to complement them. This is how we stumbled upon the Pierre Jourdan Tranquille, a beautiful Pinot Noir and Chardonnay blend. We swear if it had bubbles, it'd be a great MCC, but we're glad it doesn't because it combines two classic MCC grapes in a beautifully blended wine. The result: a softer, smoother palate to complement the salty zestiness of the oysters – and the flavour notes of classic pairings. We love it.

2. A generous pairing for people who love sharing
One of the hardest things on our menu to pair has to be the seafood platters. Amazing to eat, but difficult to complement. There's just so much to think about – grilled prawns, kingklip, baby squid, mussels, calamari, and the list goes on. How should you pair all that when it comes together? The good news is that it's easier than you think, because seafood loves company.
For wine connoisseurs…
Your first thought might be our fine Sauvignon Blancs, and of course you can't go wrong with any of them, but next time you order one of our famous seafood platters, we recommend a glass (or bottle, depending on the size of your party) of the Spier Chardonnay. It's a stellar example of Chardonnay's signature fruitiness (perfect for your hake and kingklip) and butteriness (to complement those garlic mussels and baby squid).
For beer lovers…
Of course you can pair seafood and beer. We're currently living in a beer renaissance, after all. But this one comes with a signature CTFM twist: it's not just beer. It's a beer cocktail. If you haven't tried it already, the Coronita Cocktail is a must. A giant frozen margarita for two, charged with premium Corona beer. The salty and tangy tastes of the Margarita compliment the flavours in your seafood platter, while the Corona adds that refreshing element that only good beer can. Enjoy this delicious drink in three fantastic flavours, strawberry, mixed berries and passion fruit. Imagine sitting out in the summer sunshine, seafood platter on the table, ice cold Coronita cocktail next to it with moisture beading on its surface.
3.  Teriyaki salmon and the 'red white wine'
If you're as serious about fresh fish as we are, you'll know and love our Norwegian salmon – it's healthy, it's fresh, and it's sustainably raised. With our Teriyaki salmon, our goal is to accentuate its natural flavour and texture as much as we can, so we sear it briefly over high heat to lock in flavour and moisture before drizzling it with Teriyaki sauce to add a little sweet and a little salty to each bite.
If you (or anyone you're planning on enjoying our delicious food with) are thinking about the Teriyaki Salmon next time you visit CTFM, try pairing it with a glass of Haute Cabrière Pinot Noir, the so-called 'red white wine'. Not only will its brilliant colour dazzle you, but its cherry and cranberry notes will complement the flavour of the Teriyaki sauce. At the same time, the rich taste of the salmon will accentuate the smooth finish of the wine and bring out its spicy notes. This pairing will make you stop and think, but that's exactly why we've suggested it – to help you experience great seafood, not just eat it.
What do you think? Have you tried any of these combinations before? Have you stumbled across an amazing pairing on our menu? If so, we'd love to hear about it. Post your comments and suggestions to Instagram or Twitter with the hashtag #PairLikeAPro. We'll collect your favourites and post them on our blog.