Great Instagram accounts for seafood lovers
---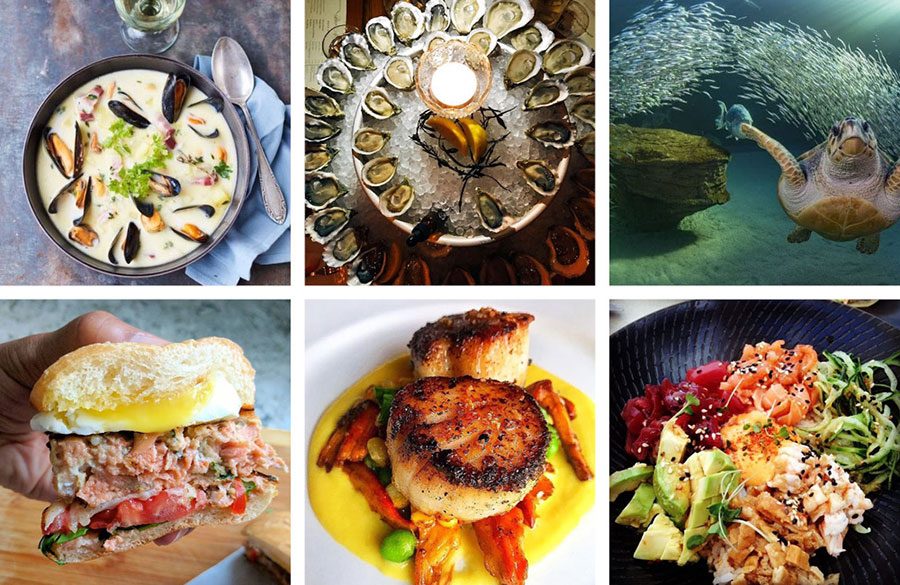 As a restaurant, we love food, and because we love food, we love Instagram. For us, the only thing better than a mouth-watering photo of a seafood dish, is having a plate of it in front of you. We also love it when our customers whip out their phones and start snapping away at the food we serve them. It's a great compliment to us, and to our hard-working staff who make each and every dish not just taste amazing, but look like it too. It's all part of the experience.
Instagram is growing quickly in South Africa. According to recent data, there are now about 3.8 million Instagram users in the country – so we thought it was time to share some of our favourite feeds with you. We've chosen them based on three things we feel make them special: great photography, sustainability and interesting ideas and recipes.
Follow him on Instagram for recipes, tips and tricks on preparing sustainable seafood, and 15 second cooking shows!
The Dutch are famous as a maritime nation, and Bart van Olphen is continuing that tradition in fine style by educating the world about sustainable fishing and how to make simple-yet-great seafood dishes with his 15 second cooking shows. His Instagram feed is packed with a combination of amazing seafood dishes, micro cooking shows and pictures from his travels around the world.
You can also check out Bart's website at http://www.fish-tales.com/en/.
Follow her on Instagram for amazing pictures of oysters from around the world.
Ever heard of an 'oyster sommelier'? Neither had we until we came across 'professional oyster enthusiast' Julie Qiu's blog and stunning Instagram account. Ms. Qiu has quite literally turned her love of the humble mollusc into a full-time job. From her base in New York City, she has explored over 400 varieties of oysters from 16 countries, and today helps oyster lovers have a better half shell experience wherever they go. She even offers an 'Oyster Mastery' course on Skillshare.
See Julie's blog at http://www.inahalfshell.com/.
3. @2oceansaquarium by The Two Oceans Aquarium, Cape Town
Follow the Two Oceans Aquarium on Instagram to experience the incredible variety and beauty of the underwater world.
When you think of seafood, it's easy just to think of the food on your plate, but the reality of our oceans is far more complex. For us here at CTFM, it's important to stay humble and stay grateful for where the food we serve comes from, which is why we follow the Two Oceans Aquarium. In addition to being a Cape Town must-see, following its Instagram account helps us appreciate the whole of the ocean world, not just the fish and other seafood we eat. Plus you get to see some really amazing fish – so prepare to have your mind blown every now and then.
You can also visit the Two Oceans Aquarium's website at https://www.aquarium.co.za/.
Follow her on Instagram for amazing seafood recipes and healthy lifestyle tips.
Stephanie Jill is the host of the popular travel-adventure-cooking TV series, The Posh Pescatarian: Appetite for adventure. She promotes the health benefits of a pescatarian lifestyle using her Instagram account to showcase her delicious seafood recipes, healthy lifestyle tips and love of travel.
See the Posh Pescatarian blog at http://poshpescatarian.com/
Follow them on Instagram for a variety of mouth-watering seafood dishes in the Los Angeles area and beyond.
Surf No Turf is a seafood lover's delight. Managed by food media company, Taste This Next, who describe themselves as food lovers that specialize in Social Media, Surf No Turf is a collection of seafood dishes and specialties prepared by different restaurants, foodies and bloggers.Make no mis(steak), they've turfed the meaty sidekick to their namesake dish, this account is strictly dedicated to the delicious dishes from the deep.
See their website here: www.tastethisnext.com
6. Special mention: @ctfmsa by Cape Town Fish Market
Follow us for great seafood photography, the latest promotions and a glimpse of what happens behind the scenes. 
If you ever get tired of looking at pictures of seafood in other countries, try some pictures of great seafood in your own backyard. In addition to making your mouth water, our Instagram is also where we post special offers, competitions, and interesting things we uncover working in the seafood business. Such as learning about National Taco Day or when to get 30% off our delicious sushi. We also love sharing your photos, so please tag us using #CTFMSA if you enjoy a delicious meal at one of our restaurants.
Have you got a seafood-related Instagram account you love in mind? Share it with us on Instagram, Facebook, or Twitter with the hashtag #seafoodfollow and we'll take a look!
https://www.instagram.com/theposhpescatarian/