New Owners of Steenberg CTFM
---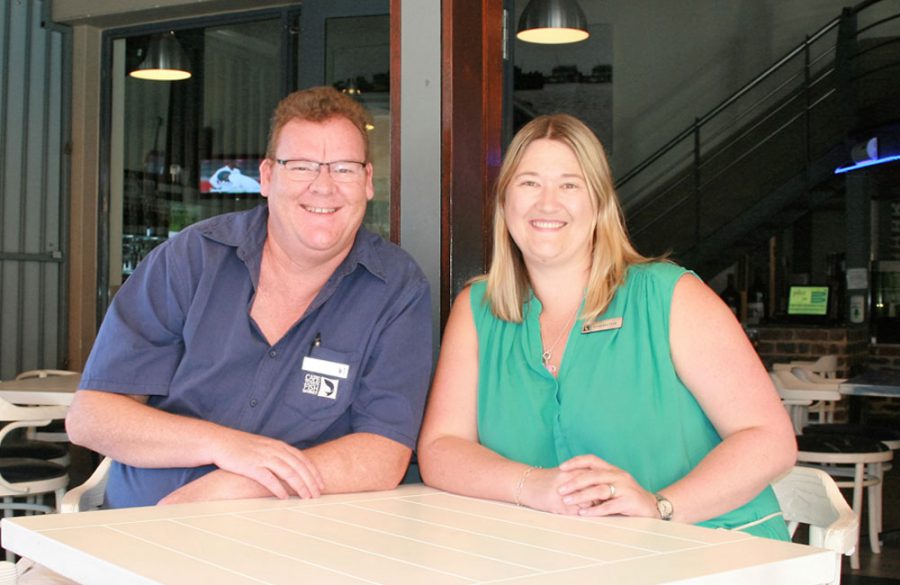 What happens when an executive chef with 25 years of experience takes over a Cape Town Fish Market restaurant?
Great things, that's what. Introducing JJ and Samantha Pretorius, your new owners of CTFM Steenberg.
With his background as an executive chef and over two decades of experience in hotels and on luxury cruise ships, JJ Pretorius and his lovely wife Samantha are the perfect pairing to make Steenberg's Cape Town Fish Market no. 1 on your go-to list of local restaurants.
Having only been on the job since September, JJ and Samantha are already ringing in big changes in Steenberg, so we sat down with them at the restaurant to find out more about creating a great restaurant experience, what makes good seafood, and their plans for CTFM Steenberg.
CTFM: JJ, you were most recently the Executive Chef at the prestigious Umngazi resort in the Eastern Cape. How did you and Samantha find yourselves here in Cape Town?
JJ: We heard that there was a Cape Town Fish Market here in Cape Town that was looking for new owners and it just seemed like the perfect fit.
Samantha: The idea just came together so well. We both love the sea–
JJ: After all, 10 years of my career have been spent on cruise ships. I love to fish, when I get the chance, and of course seafood is a favourite.
Samantha: That's actually how we met – we were both working on the Queen Mary II on its maiden voyage across the Atlantic. And we always go on seaside holidays. We've got twin girls now, and they love it too.
JJ: Except when we go to the game reserve.
Samantha: Yes, some members of the family, JJ included, love game reserves as well. And we love Cape Town. It's been a great experience every time we've been down here.
JJ: So with my background as a chef and Samantha's experience  in hospitality, Steenberg's CTFM was just ideal.
CTFM: It's great for us as well to have an executive chef managing a Cape Town Fish Market. We're really glad you're on board. So tell us more about your philosophy when it comes to running a restaurant.
JJ: I care very much about developing relationships with our guests–
CTFM: 'Guests'? What do you mean?
JJ: That's the phrase we use in the hospitality industry, and it's also how both of us think about the people who come and visit our restaurant. They are our guests. I always like to say, 'customers go to Pick n Pay'.
Samantha: And thinking of them as guests, and teaching our staff to do the same, helps us give them a better service.
JJ: For me, with this restaurant, it's about building personal relationships with our guests. I enjoy talking to them, and I encourage them to talk to us. Because I'm a chef too, I know exactly how each dish is prepared and how the ingredients are sourced. I'll happily talk to a guest about their meal and listen to what they have to say. But at the same time I have a good eye for guests who would just like to enjoy good food with their own company. Understanding that space is also important.
CTFM: We agree, it's great when restaurant owners are engaged, and it's always nice when you walk into a restaurant and the owners know you and what you like. Speaking of which, tell us more about the food.
JJ: I care a lot about the quality of the food here – I mean, you don't work as a chef for 25 years if you're not passionate about food – and that's one of reasons CTFM is such a good fit: we only serve fresh fish, not frozen, and I deal with our suppliers directly. Serving quality, value-for-money food is my top priority, and I know what I'm looking for.
I will also hop back into the kitchen if a guest has special dietary requirements, for example, and prepare their meal personally. A lot of people also don't know that we're Halal-friendly, which means there's no pork on the menu and we don't cook with alcohol.
CTFM: We don't always get to chat one-on-one with an executive chef, so we've got a question we think many of our guests would be interested in: What advice would you give to people going to a seafood restaurant?
JJ: That's easy. As a guest, the first thing you should look for is the smell of fish. If the restaurant smells fishy, turn around and leave. A fishy smell means that the fish being served is not fresh. When you walk into a Cape Town Fish Market, you won't smell fish. You may smell food cooking, but it won't be fishy, it will be fresh, always.
CTFM: That's good advice. Speaking of food cooking, what are your favourite dishes on the menu? We're curious, because you're a chef, and Sam has also worked in hospitality.
JJ: Well, if you know me, you know I love good food. There are so many great dishes on the menu, but if you twist my arm, I'd say it would have to be the 900 gram beef ribs. It's a great meal and it's guaranteed to leave you satisfied.
Samantha: The baby squid. It's amazing. Definitely worth trying next time you're here.
CTFM: We know you've only been here a few weeks, but what's your vision for the future of CTFM Steenberg?
JJ: We knew what we wanted to create before we even arrived – the top restaurant destination for local residents, and the top CTFM in the country in terms of quality, value for money and overall experience.
Samantha: We want our guests to get a sense of the passion that's going into this restaurant. We want it to be vibrant and happy and ready for guests to come and have a great meal. We also have a very strong focus on the experience – speed, etiquette, passion. We try and speak to as many guests ourselves as we can, and pay attention to their individual preferences.
CTFM: Sign us up! Any last words before we let you get back to being the great hosts you are?
JJ: Yes. We'd like to invite everyone reading this to come and have a meal at Cape Town Fish Market Steenberg. It's under new management and you're in for a treat. We're open 365 days a year, and serve great seafood and sushi from 11am to 11pm.
Samantha: Whether you're coming for the specials or the fresh fish, or any of the other dishes on our menu, come and say hi and introduce yourself. You'll always see either one or both of us on the floor and we'd love to meet you.