Godwin Kunedzimwe – sushi maestro, future celebrity chef
---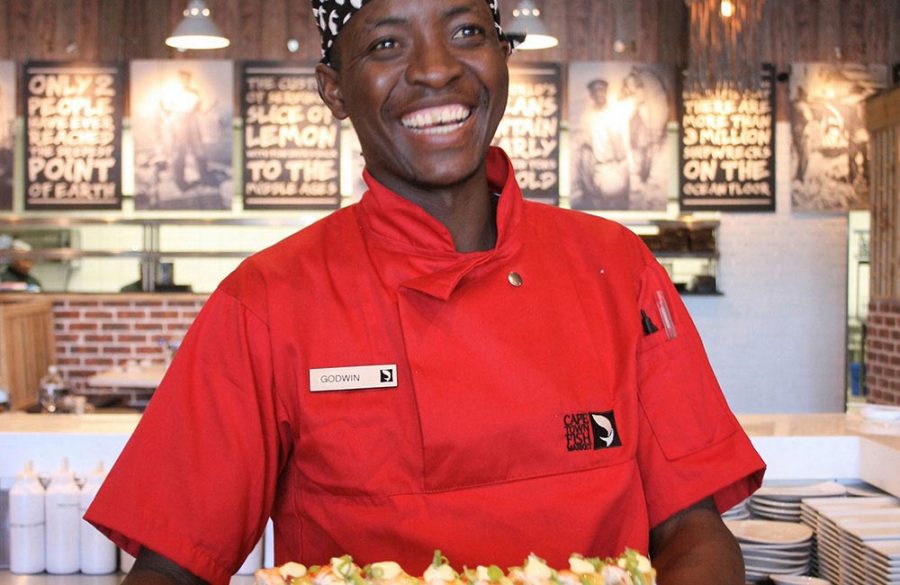 We have many great people working at Cape Town Fish Market. They're the unsung heroes of that perfectly done tuna steak, or that one variety of sushi you just can't get enough of. But who are they? How do they approach their work? And why do we think they're special?
Today, we'd like to introduce you to one of our chefs. Meet Godwin Kunedzimwe, 34, our head sushi chef at CTFM's new Sanctuary restaurant in Somerset West. His recent promotion meant that he temporarily had a three hour commute from his home in Milnerton (before moving closer to work), but he seized it with the same enthusiasm as if we'd opened up a new restaurant next door. He's just that kind of guy.
Originally from Zimbabwe, Godwin came to South Africa for a chance to do the work he loves – prepare great food. His story begins in 2008, when hyper inflation was really beginning to take a toll in Zimbabwe, causing the value of the Zimbabwean dollar to drop like a stone. In fact, when he left his government job where he was helping farmers, Godwin's salary was 14 million Zimbabwean dollars. If you're reading this here in South Africa, that may sound like a lot. In fact, it was the equivalent of just R450 a month at the time.
Leaving his wife in Harare with a very romantic 'I'll send for you as soon as I'm able', Godwin packed his passport, came to South Africa and made his way to Cape Town. Finding a job was tough at first, and despite his hope of working his way up in the hospitality industry to become a chef, Godwin's first job here was in construction. It's a far cry from where he is today, and if you asked him, he'd be the first to tell you that it didn't happen overnight. He got to where he was step by step.
The first step on his road to smiling behind the sushi counter, was actually making basic food for the construction workers on-site. After all, construction is a hungry business. With that experience in hand, and a desire to prove himself, he then got a job at a takeaway restaurant. It wasn't glamorous work by any means, but it was a step forward. Then, in 2009, Godwin got a job at a seafood restaurant as a filleter, doing the basic preparation of the fish. It was the lowest rung on the chef's ladder, but now he was there. Just one year later, his wife joined him.
Once there, nothing could stop him. After practicing until he could fillet a fish perfectly, Godwin was promoted to the grill, which allowed him to start cooking for people again. Once he was satisfied that he had mastered the fine art of searing and grilling seafood, he put in for a promotion to sushi chef. Now, if you know sushi, you'll know there's a very big divide between grilling fish and preparing sushi, but it was exactly the challenge Godwin wanted. His tenacity, attention to detail and drive to constantly perfect his skills are what makes him a great chef.
After mastering a whole new set of knife skills, Godwin worked at no fewer than three different seafood restaurants before joining Cape Town Fish Market. So why CTFM? We asked, and his answer was simple: "I'm always looking for the next challenge." His entire approach to cooking is about learning as much as possible and mastering every technique he can. After a year at Canal Walk's CTFM, we offered him the position of Head Sushi Chef at CTFM Sanctuary. By now you know we didn't have to offer it to anyone else.
Godwin is incredibly passionate about his sushi. It's why we're writing about him, and also why we'd recommend that anyone who enjoys great sushi head over to Sanctuary and say hello. In addition to making great food, he loves talking to customers. If you want a quick masterclass in how sushi is made (while enjoying some finely-crafted salmon roses, perhaps?), he's your man.
Never one to rest on his laurels, Godwin already has his eye on the next step – he plans to start studying part-time at the Capsicum Culinary Studio in Cape Town to earn his City & Guilds qualification as a chef. His ultimate dream? To become a TV chef and show people how to cook great food on his own show – like Jamie Oliver or Nigella. And with his determination and charisma, we're willing to bet he'll get there. In the meantime, we're just glad to have him keeping our Somerset West and Strand sushi lovers very, very happy.
Jamie, you'd better watch out…
Godwin Kunedzimwe
Quick facts
Age: 34
Position: Head Sushi Chef, CTFM Sanctuary
Cares about: The cleanliness and presentation of the sushi bar, and perfecting his technique.
Favourite fish: Norwegian salmon.
Favourite sushi to make: Anything that doesn't use rice (because it's more of a challenge).
Favourite sushi to eat: On the menu, California roll with tempura prawn and Philadelphia cream cheese. Off the menu, California roll with prawn, wasabi and ginger on the inside.
Favourite fact about CTFM: Every restaurant listens to the ideas of the chefs and staff.
A huge thanks to CTFM Sanctuary and to Godwin for taking the time to sit down and talk to us.
If you're in the Somerset West or Strand area, head down to The Sanctuary Shopping Centre on De Beers Avenue just off the R44 and enjoy some delicious sushi made by one of our best chefs.