Cecilia Ntuma – Our longest-serving kitchen staff member
---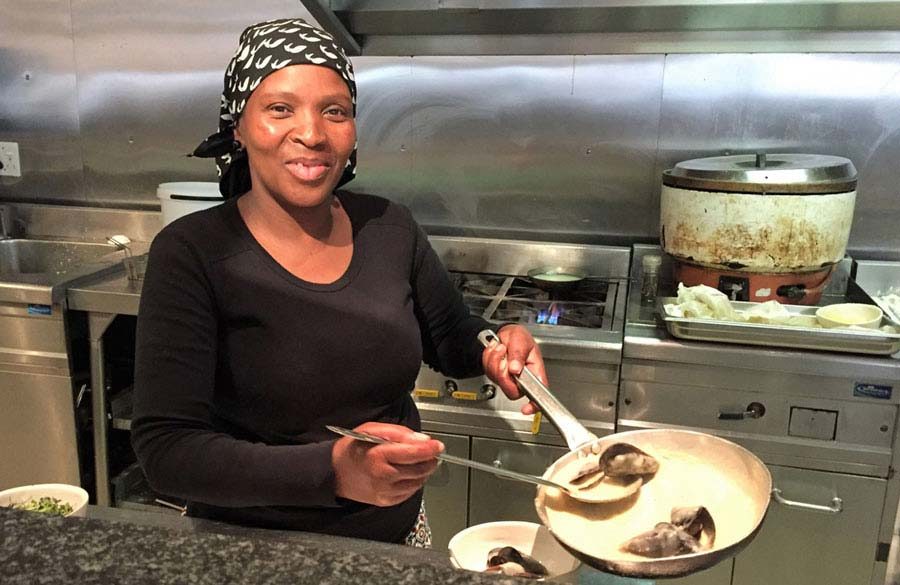 We have many great people working at Cape Town Fish Market. They're the unsung heroes of that perfectly done teriyaki salmon, or those tempura prawns you just can't get enough of. But who are they? How do they approach their work? And why do we think they're special?
Today we'd like you to meet Cecilia. She's been with us for 14 years. Yes, you read that correctly, and if you know the restaurant business, you'll know that's rare. Restaurant kitchens have one of the highest staff turnover rates of any industry, so when you find someone who's been with the same restaurant for 14 years, you know they're pretty special – and so is the restaurant.
Cecilia, now 50, began her journey to becoming one of CTFM's most respected staff at the age of 24, in 1990, when she left her hometown of Keiskammahoek in the Eastern Cape and set off for Cape Town. A single mother at the time, she reluctantly left her young son in the care of his grandmother with the sole goal of finding a way to support him so they could build a life for themselves together.
Besides her ever-present smile, one of the first things you notice when you meet Cecilia is that she doesn't just have a passion for cooking, but an unwavering sense of dedication and perfectionism. It's why she quickly found work in the local restaurant industry and was soon able to bring her son over to Cape Town with her. She worked at various restaurants over the following ten years, but none of them quite felt like home – until a friend told her about a new restaurant that was opening up in Canal Walk that was looking for kitchen staff.
It was a restaurant that she hadn't heard of before, but, confident of her own skills and looking for a new opportunity, she decided to take a chance. That restaurant at Canal Walk was the second ever Cape Town Fish Market franchise, newly opened in 2000. Cecilia got the job, and after preparing salads and desserts for just two weeks, she was promoted to the kitchen.
She's been there with us at the culinary coal face ever since.
So why stay? It turns out there are many reasons. On the practical side, there's the good pay and conditions. They're very important for restaurant staff who work long shifts, and we're very flattered to say she thinks we're one of the best when it comes to that. In fact, she readily cites kitchen staff who left and later wanted to come back because of the way CTFM Canal Walk takes care of its staff.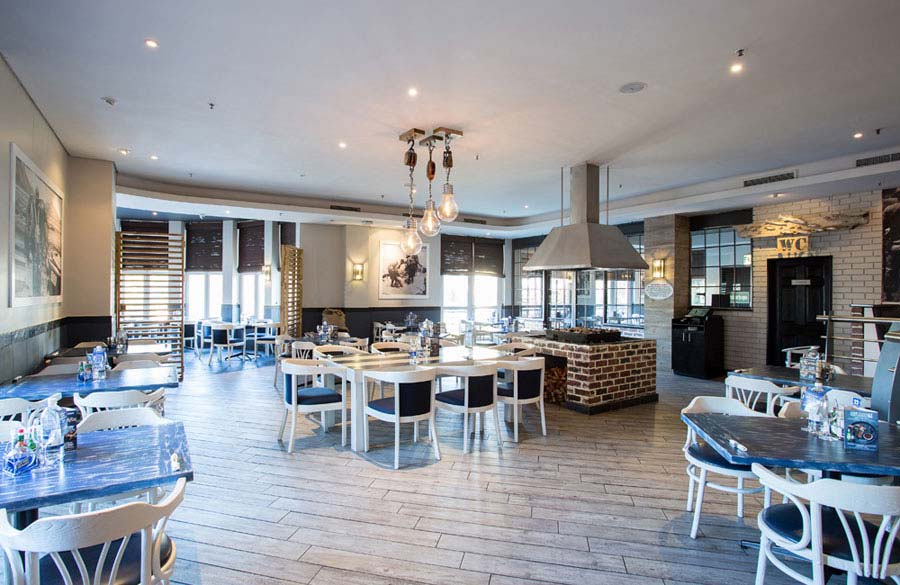 Another big reason is Philip Senekal, the franchise owner. He's very hands-on, and since Cecilia has been with him from the beginning, each know what they have in the other. Philip relies on her to keep the kitchen running smoothly, and she knows she can count on his understanding and support of her. Cecilia also relishes her role in the kitchen. As the most senior member of staff in the kitchen, she's very much taken on the role of 'kitchen mother', which means she takes the lead on solving problems, training new staff, and generally being the calm, ordered presence that keeps everything running smoothly. She's earned the respect of everyone who works in the restaurant – and she gets it.
In terms of culinary tastes, she loves making curries (CTFM offers excellent fish, prawn and chicken curries, which we definitely recommend if ever you're near Canal Walk) and sees herself as CTFM's 'curry mistress'. If you push her to pick her favourite dish on the menu, and there are many, you'll find she has a sweet tooth and loves our sticky toffee pudding.
As for the life she planned to build when she left home all those years ago, she succeeded. Cecilia's son has since completed high school and has followed his mother into the seafood business as a sushi chef. He even spent some time working at CTFM Canal Walk alongside his mother. And yes, she's very proud.
Fourteen years, three renovations, and thousands of dishes later, we're proud to say that she plans on continuing to work with CTFM until she retires. And we're incredibly lucky to have her.
When we asked Philip about why he thinks a skilled cook like Cecilia decided to stay and make CTFM her home, he said this: 'This is not my business, it's our business. When everyone understands that, there's a sense of belonging, and that's why people stay. And that belonging translates into better food and better service for customers.'
We couldn't have said it better. And we'd like to wish Cecilia a very happy 15th year as part of the CTFM team.
A huge thanks to CTFM Canal Walk and to Cecilia Ntuma for taking the time to sit down and talk to us.
So, whether you're next at Canal Walk for the shopping, the fashion, or just a romantic dinner and a movie, you're always welcome at the Cape Town Fish Market where you can enjoy some delicious seafood prepared by our talented, experienced cooks and chefs.