Oyster and mussel farming – sustainable aquaculture at its best
---
From the ocean to your plate, the journey of the humble mollusc is one any sea creature would envy
If you were shucking oysters back in 1975, there's a good chance the poor unsuspecting mollusc was scraped from its home on the seabed by a hydraulic dredge, a mechanical method of oyster harvesting which ripped up the ocean floor and caused havoc with nearby ecosystems. Luckily, a global movement towards sustainable mollusc farming is well underway, with a focus not just on sustainably farming oysters and mussels, but also on having a positive impact on the marine environment itself.
In this article we're going to tell you how molluscs are farmed sustainably, why it's special, and why CTFM focuses on only the finest quality seafood, making our oysters and mussels some of the best in the world.
Mussel farming – growing your superfood in a shell
Aquaculture
Unlike other forms of agriculture, mussels never leave their natural environment. Instead, they are farmed in it.
To avoid having to dive deep into the ocean to go and get them, mussel farmers use floating rafts from which long ropes dangle deep into the ocean. Newly-spawned baby mussels flow in with the current, looking for a spot to settle down – and as it turns out, big, bulky ropes make for the ideal home. Soon enough, all of them have a spot on their new hanging skyscraper. They never even touch the ocean floor – which means no dredging required.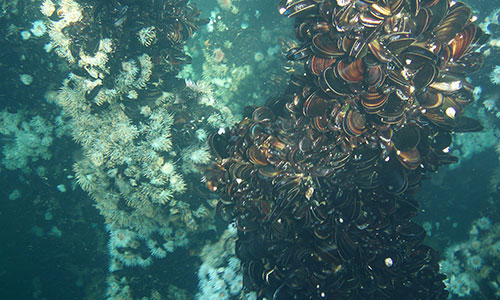 Mussels feed off the organic matter that flows in with the current, which is why the location of the rafts is important. Mussels are filter feeders, so diet-wise they don't see a lot of variation. Their nutrition comes mostly from tiny organisms called plankton, which they happily suck up, cleaning the water and the ocean in the process. Once they are fully grown (about 8 months old), it's time to leave the hanging skyscraper for their journey to your plate. Every morning at 6 o'clock the most mature mussels are harvested and start making their way to CTFM franchises across the country.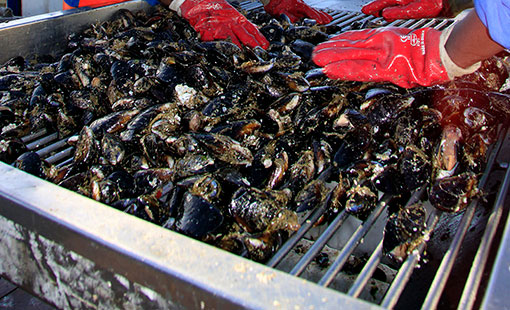 Our partner
CTFM gets its mussels from Blue Ocean Mussels (locally known as 'The BOM', and with good reason). This Proudly South African company in Saldanha Bay has been around for over 30 years and their commitment to our marine environment and social upliftment, together with their consistent supply of high-quality mussels makes them a great partner for CTFM.
Taste the difference
Because farmed mussels are raised dangling high above the ocean floor, they are free of grit, sand, and other impurities. This means that their flavour is pure, and their texture is plump. The unpolluted waters of Saldanha Bay and the cold Benguela Current produce some of the best tasting mussels in the world. Speaking of which…
Find it on our menu
As a starter:
Enjoy a 300g or 900g portion of steamed West Coast mussels in a creamy garlic sauce or
As a tapas portion:
Try our mouth-watering mussels baked in a tomato and basil sauce, topped with herbs.
As a main course:
Find them in the West Coast Potjie, the East Coast Potjie, the Seafood Paella and in our seafood platters.
Click here to see the full menu.
Oysters – cultivating the 'wine of the sea'
Aquaculture
Unlike their mollusc cousins, oysters have three distinct life stages. The baby oyster, the 'teenage' oyster, and the mature oyster. It begins with 3 to 4 mm seed oysters that are put into their own floating nursery made from crates. Water is pumped upwards through the crates in a process called 'upwelling', which creates an artificial current to help the young oysters feed. They grow pretty fast in this environment and reach a size of 15 to 20 mm in about three months. During the second stage of the oyster farming process (which we like to call 'their teenage years') they leave their nursery and make their way onto floating long lines – their home for the next couple of months. These are nets that are suspended under floats out in the open water – similar to mussel rope farming. But unlike mussels, they get more attention – the oysters are checked and cleaned by hand every two months to make sure they are healthy and happy.
When the oysters reach 25 to 35 g in size they are taken one kilometer out to sea and suspended on larger long lines. Here they enjoy a constant supply of nutrients from the current until they are mature and ready to be harvested. Oysters are harvested daily, put in tanks for cleaning and purification, and then hand-inspected before they are shipped to us…usually ending up chilling on ice in close proximity to a fine white wine or some bubbly.
Our partner
The Knysna Oyster Company specialises in farming fresh Pacific oysters in the cold, clean waters of Nelson Mandela Bay. They have been sustainably farming oysters since 1949 and they take great care to ensure that they meet all the rules set out by the SA Shellfish Monitoring and Control Program and other international standards. The Knysna Oyster Company handpicks their oysters to make sure that the ones that come to us, are the best quality live oysters you can find.
Taste the difference
Oysters are sometimes referred to as 'the wine of the sea' – they're delicious, complex and can taste completely different depending on where they come from. Winemakers use the term 'terroir' to describe the influence of the unique natural environment on the taste of wine grapes. Likewise, oysters have their own 'merroir', or marine terroir, with every coastal region offering oyster enthusiasts something different. In the cool, clean waters of Nelson Mandela Bay, with the nutrient-dense Agulhas current, we get oysters with a very distinctive, fresh taste that you won't find elsewhere in the world. So, the next time you slurp a delicious oyster at CTFM, remember that you are tasting something unique to South Africa's shores.
Where you can find it on our menu
As a starter:
Enjoy a portion of 4 or 8 oysters with traditional mignonette sauce and fresh lemon wedges.
As a tapas portion:
Try something different and have them grilled and topped with basil pesto butter.
And if you're not sure how to handle oysters, read our article, How to master the humble oyster.
Better still, every time you order oysters or mussels at CTFM, you're supporting local sustainable seafood farming in South Africa – read more about why local is lekker in our article on why eating local is much easier (and more delicious) than you think.