Staff picks: Find out what our most-loved meals are
---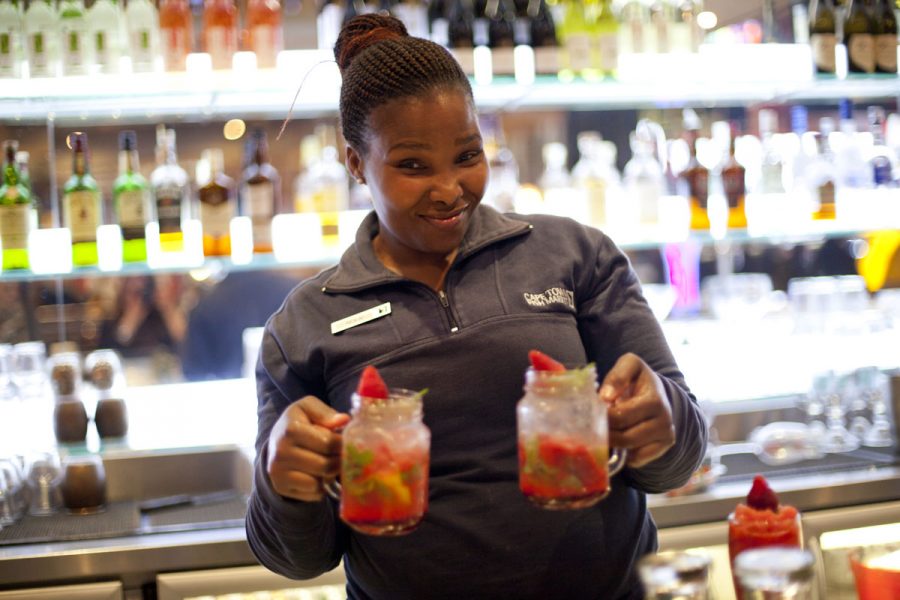 If you're reading this, you're probably as obsessed with food as we are (and we don't blame you!). At Cape Town Fish Market, we love good food. We love cooking it, we love serving it, and we love eating it.
Our extensive menu includes everything from Fish & Chips to Poke Bowls, and Sushi to Ribs. We make sure to taste all these dishes so that we can make informed recommendations when customers ask us about the menu. It's a tough job, but someone's gotta do it!
We understand that it can sometimes be difficult to choose when ordering, so we spoke to some of our team members at Canal Walk to find out what their favourites dishes are. Here's what they had to say:
Aman Singh has been working for CTFM for 10 years, and as a waiter he knows the menu very well. "I'm able to make great recommendations, like the Teriyaki Salmon, which wins hands down as my favourite dish on the menu. I love the flavour of teriyaki and the mash is just the perfect complement to the fish."
Bubbly and confident, Lumka Makwangeni has been with us since 2012. She also lists the Teriyaki Salmon as a firm favourite. "Medium rare with mash, please. It's just the best and customers love it as much as I do." Lumka loves talking to customers about our food and has a few regular customers who ask for her whenever they come to the store. "I enjoy talking to them about the food."
Bar lady, Nolase Mkhetho, joined us as dishwasher in 2007, after which she became a runner and then joined the bar team. She's a little reserved, but she knows what she likes when it comes to food "I'm Xhosa! I love meat and the ribs are always a winner for me." On the drinks side, the Strawberry Mojito cocktail is her favourite.
Manager, Geraldine Wait, has been with us for close to 9 years, so we were keen to hear what her favourite dish is. "I'm a boeremeisie so I love my ribs! Growing up, meat was always part of every meal or braai, and nothing has changed."  On the customer side, Geraldine says the Fish & chips is a favourite on any occasion. "The Poke Bowl also tops the list."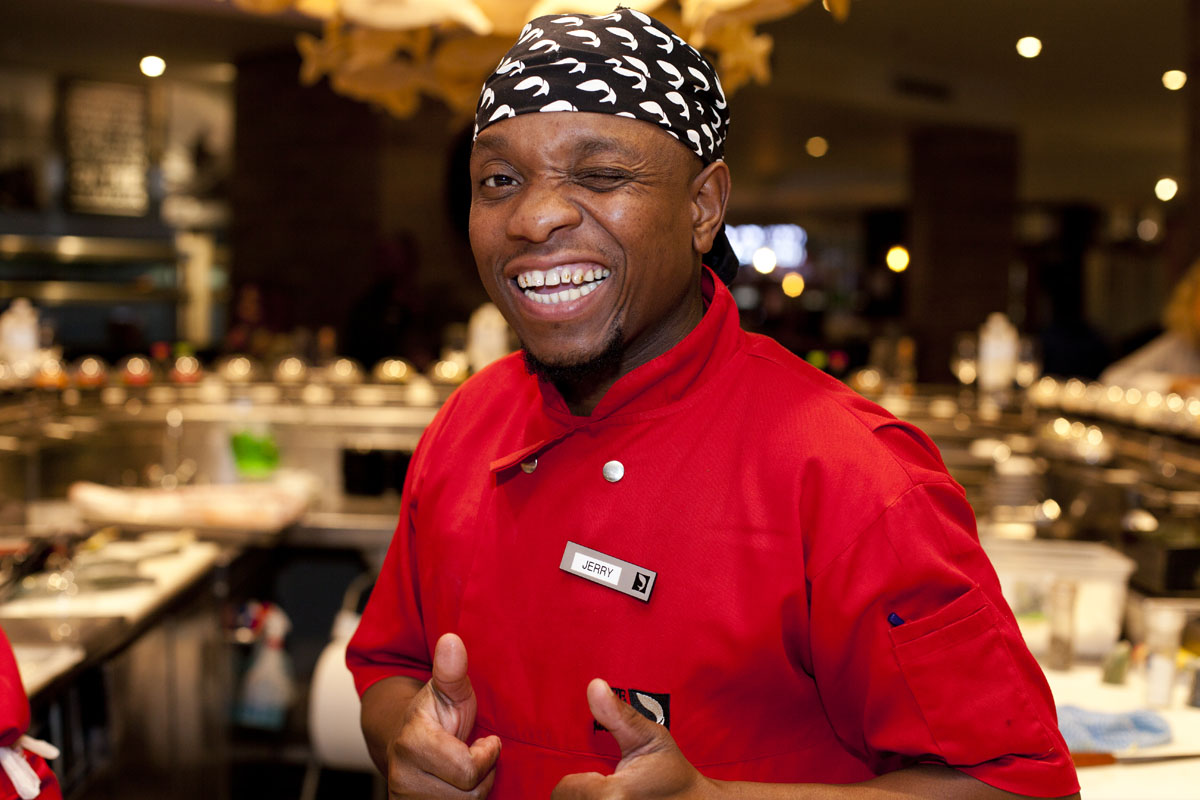 Jerry Ndlovu, who's been working at CTFM for 8 years, started out as a runner and was then trained as sushi chef. He loves sushi. "What's there not to love about it? We make the best sushi and I'm not just saying that because I make it. Our customers love it too. And now that I can make sushi, my girlfriend loves me even more," he quips.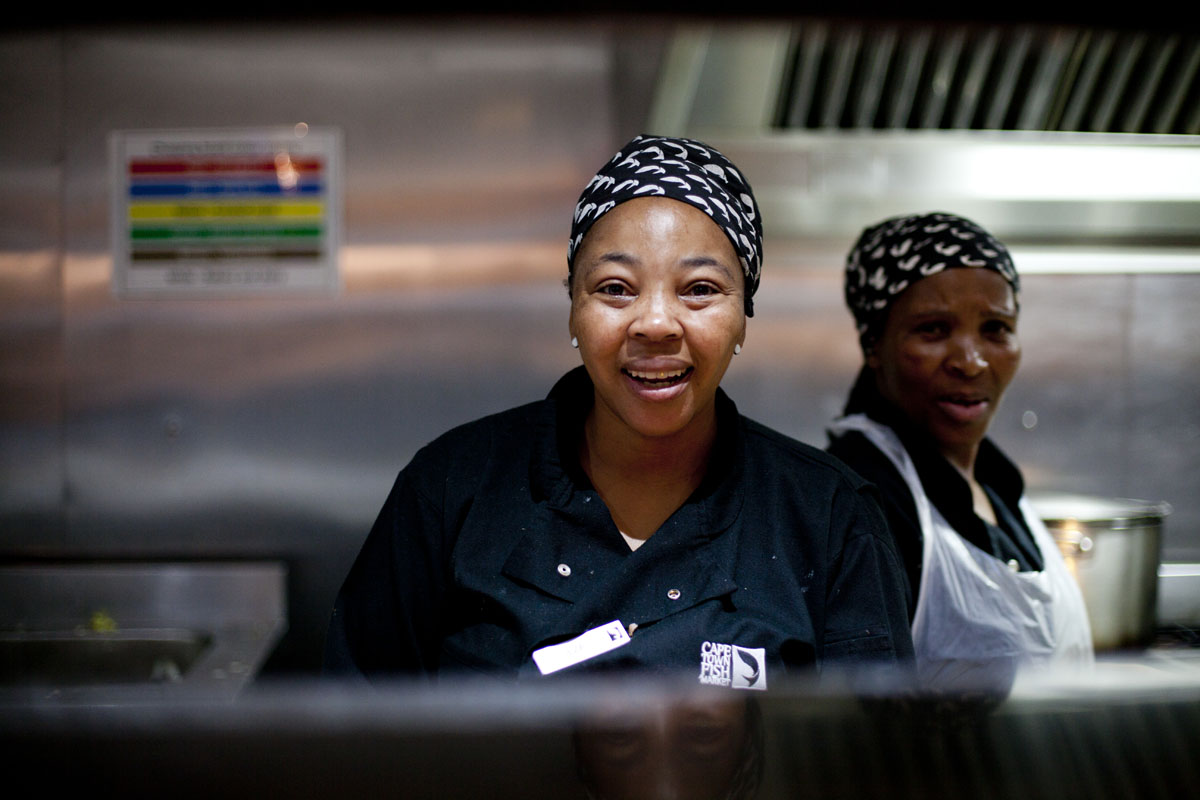 Salad lady, Buyelwa Mafutha, who joined CTFM in 2014, prefers more traditional dishes. "Being in the kitchen, I make a lot of Salads, Seafood Noodles and Potjies. But I love the chicken curry most. It is my favourite and I like that it has lots of veggies."
With all this great food, we don't blame you if you have a little option anxiety when it comes to choosing what you want to eat. Luckily our staff is well-versed on the menu and can help you order with confidence. We invite you to come and experience our menu so that you can find your own favourites. Please go ahead and ask the staff for a recommendation – you won't regret taking their advice.